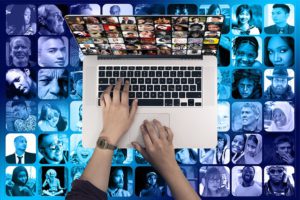 Sometimes finding what you want in genealogy is like a maze of information sometimes never taking you to where you wanted.  These following websites are free and provide you with a stepping stone to your family research by providing information on where to find what you are looking for.   There are numerous sites operated worldwide.
Worldwide
Cyndi's List – This site has a vast array of links to resources searchable by topic and location with up-to-date links to just about any website you can name in the genealogy world.
Family Search – this site is a wealth of information being run by the Mormon Church with records held from around the world.  The most important holding on this site is the International Genealogical Index (IGI).
World Vital Records – part of the My Heritage group this site allows you to search for BDM, Census, Family Trees and much more for many locations around the world.
United Kingdom and Ireland
Connected Histories – this site connects a host of digital resources from 1500-1900 Britain and allows the user to search names, places, and dates, as well as save and share resources with others.
English Family History and Genealogy – a site that links to useful sites for England specifically hosted by Price and Associates website.  Contains links to resources such as burial indexes, baptism indexes, civil registration, probate, census, occupations, surname studies, handwriting aids among others.
GENEVA – part of GENUKI this site is "An online calendar of GENealogical EVents and Activities".  It mainly contains UK, Irish events but does have some international ones also.
GENUKI – if you are looking for anything genealogical in Britain or Ireland then this is where to start.  This site is the grandad of the genealogical world and provides information to locate archives, libraries, and records.
Ireland and United Kingdom GenWeb Project – "This site is part of the WorldGenWeb Project and is the regional resource page for research in Ireland and the United Kingdom."
Scotlands Family – resources for people searching their Scottish heritage with links to resources for births, deaths, marriages, census, poorhouses, and parish maps to name but a few.
UK and Ireland genealogy Records Online – This site contains links to databases and transcriptions of records with over 95% of these resources being free.

UK Family of sites by Ian and Sharon Hartas are a group of sites that provide links to resources within the UK.