Moving right along in the 52 Ancestors in 52 Weeks challenge, I am moving on to the Week 5 Challenge – In the Census.  Censuses are a great genealogy tool for the family historian.  They provide a snapshot in time of your ancestors – ages, place of birth, occupation, address, relationships between residents at an address.  Sometimes, though they leave you scratching your head.
.
Week 5 – In the Census
I went through a number of ancestors to see what "quirk" I could find in a census of one of my ancestors.  I ended up selecting the 1871 and 1881 Censuses of my great-great-grandfather, Frederick Washbrook as they fit the criteria.  Frederick was born between 1822-1825 in Willenhall, Staffordshire.1,2,3  At the time of the 1871 Census, he was living with his wife Sarah in Lane Head, Willenhall.4  They had four children – Isaac (10 years), Sarah (8 years), Abraham (4 years), and my great-grandmother, Alice Elizabeth (2 years).5  They were all born in Willenhall.6.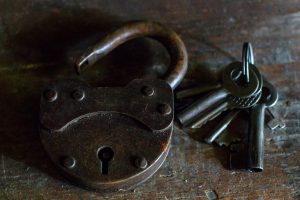 There was nothing remarkable in the 1891 Census, Frederick was a Publican and the family lived in the Lodge Tavern Inn on Willenhall Road, Willenhall.7  His sons Abraham and Arthur were both Lock Smith's and Howard a Key Stamper.8  However, moving back in time to the 1881 Census, the family is living in the Lodge Tavern, 90 Lane Head, Willenhall, however, Frederick, is working not only as a Publican but a Lockmaker as well.9
.
Wait! What?  I thought this is strange so I checked out the 1871 Census.  Sure enough, Frederick's occupation is listed as a Cabinet Locksmith and a Beer House Keeper.10
.
I find it incredibly strange in an era where you tended to have an occupation for life and one similar to your father.  Frederick's own father, John had been a Locksmith as seen in many of the documents relevant to him.11  Indeed his own sons were working as Locksmiths and Key Stampers.12   So my question today is how does one become both a Locksmith and a Publican?
.
.
Click on the image to find quirky things in your ancestor's census records.
.