Finding something to write about for 52 Ancestors in 52 Weeks in Week 8 – Heirloom has been incredibly hard.  My maternal grandmother died on 23 May 2016 and we were left with all her belongings.  Some of them had names on the back to be given to a specific person.  There were so many items to choose from for this challenge.
Week 8 – Heirloom
I finally decided on this gorgeous dish (see Figure 1).  All it had as the way of explanation was my mum's name written on a piece of paper on the back with Dongara underneath.  Clearly, this had come from Dongara, Western Australia where mum spent a part of her childhood.  The Dongara region was where my grandmother's, Brand and Criddle ancestors were early settlers.  Many still reside in the region to this day.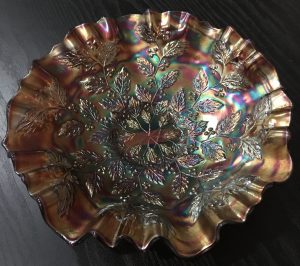 I do not recall ever seeing this bowl being used but when I saw it in her cupboard I was immediately intrigued.  Mum cannot recall the story behind it or why her name was on the back.  There are no markings to identify where or when it was made, however, if it came from Dongara I can only assume it is from the late 1940's to early 1950's at its youngest.  That would mean it is a minimum of 70 years old.
.
.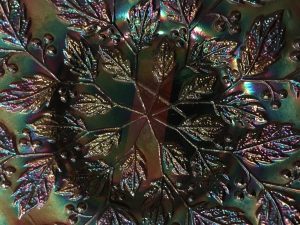 It is a beautiful piece with gorgeous colouring and intricate work on it – you can see the leaves in Figure 2.
My daughter saw this bowl and asked my mum if she could have it.  She is very artistic and clearly liked the intricate work and colours in the bowl.  Her wish was granted and it is put away as an heirloom for her.
I would dearly love to know its origins, however, I doubt I will ever know.
Do you have an heirloom that you love?  Have you ever seen a bowl like the one above?  Please comment below with your thoughts.