Have you ever wondered where your ancestors killed in action are buried?  In war, especially the First World and Second World Wars, the dead remained in the country in which they died. Sometimes there was no record of where they were buried.  In some cases, there were details of the person's death and their exact burial position and in the years following the wars their bodies were exhumed and moved into cemeteries.  The organisation responsible for this is the Commonwealth War Graves Commission.
.
Who are they?
The Commonwealth War Graves Commission (CWGC) is responsible for the registration and recording of the graves and memorials of 1.7 million women and men who died in World Wars 1 and 2.1  These graves and memorials of these brave people are located in 153 countries at 23,000 sites.2  Fig.1 shows a worldwide map of the locations of all the memorials and graves that they maintain.3  As you can see from this map there is barely a country where a memorial does not exist.
.
The CWGC was the inspiration of Sir Fabian Ware who, too old to fight in WWI, headed a British Red Cross unit.4  He was saddened by the great loss of life and was concerned that the war dead, being buried in unmarked graves, would be forgotten.5  Through his dedication, the graves of many military personnel were identified allowing for the permanent commemoration of them as we know it today.6
.
Following the ceasing of hostilities in 1918 the war dead were scattered across many countries and the CWGC was tasked with identifying these individuals.7  In many cases, the dead had been buried in cemeteries established near the battlefields, and these graves were simply recorded and registered.8  However, there were many, many more who were in unidentified graves or not buried at all.9  This is when concentration cemeteries were created and the Grave Concentration Units went about exhuming and reburying the war dead in these newly created cemeteries.10 During this process, they worked to identify each and every person but due to the circumstances of war, this was not always possible.11
.
.
How the CWGC Website can help you
Searching
As a result of this meticulous record keeping, we have a great resource to search and find the burial place of our military ancestors.  On the CWGC website, you can search for a cemetery or a person. It is very quick and simple to do.  I will use my great-great-uncle Robert Hilton Matheson as an example.  It is very easy for you to search for your ancestor using the same techniques.  I put his name in the search engine and got one successful hit (see Fig.2) outlining his rank, service number, date of death, his regiment, and the cemetery.12 He died on 23 May 1918 and is buried at Ribemont Communal Cemetery Extension, Somme, France.13
.
Commemorative Certificate
When I click on his record I'm taken into a more detailed summary of his information.14  It outlines where he is from, his parent's names, the inscription on his grave, and the option to download a commemorative certificate (see Fig.3).15
.
.
.
.
.
.
.
.
.
.
Cemetery Information
This page also gives me the option to get further information on the Ribemont Communal Cemetery Extension, Somme including a plan and photos of the cemetery (see Fig.4).16  He is buried with another 197 Australian soldiers.17
.
.
.
.
Original Documents
Scrolling to the bottom of the page I come across a CWGC Archives (see Fig.5).18  Here I find original documents pertaining to Robert's burial – Grave Registration Report, Concentration, and Headstone.  These original documents, that you can download, provide information about the burial.19  It includes details on his exhumation, burial, and what is inscribed on his headstone.20
.
.
Just follow the steps above to search for your ancestor.  However, if you have issues with searching the CWGC has a great page with videos on how to search their site.
.
Apps
The site has two free apps.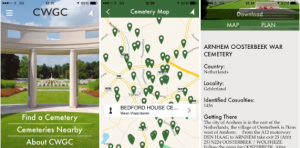 War Graves app – Available for Android and IOS, this app allows you to search for any CWGC cemetery by name, locality, or country in the world.21  Just select the cemetery you are interested in and it provides you with information about that cemetery.22  There is also a map to show you where it is and a plan of the actual cemetery.23
.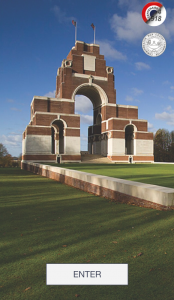 Thiepval app – Available for IOS this app is essential if you are travelling to the Somme to visit the Thiepval Memorial – the Memorial to the Missing of the Somme.  This app will help you to easily find where a soldier's name is located in the memorial, the largest Commonwealth war memorial in the world.24  You will also find stories of some of these men in the app.25
.
Interact with CWGC
As with most organisations these days you can interact with them and keep up-to-date on what they are doing via:
.
The best thing I love about the CWGC site is how easy it is to find the information.  You are able to do a search and get information about your ancestor and their burial place in seconds.  This is a great genealogy task to do when you have limited time but want to work on your tree.  In under 30-minutes, you will have your ancestors name, rank, regiment, date of death, burial place, and details of the cemetery where they are buried.  Great for those days when you want to do some genealogy research but don't have a lot of time available to you.
.
Head over to the Commonwealth War Graves Commission site today and find the final resting place of your ancestor.  Let me know in the comments below about your WWI and WWII heroes!
.