The 52 Ancestors in 52 Weeks challenge this week is Ten.  So many ways to interpret this – ten children, the tenth person on your tree, the 10th army unit.  I opted to go with ten children.
Week 40 – Ten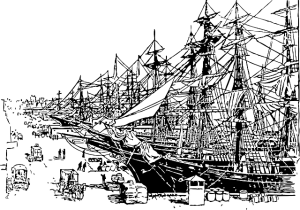 Susan Criddle and David Brand were my second great-grandparents on my mother's side.  Susan was born in 1848 in Toodyay, Western Australia to William Criddle (Crittal) and Elizabeth Thomas.1
William had arrived as an indentured servant in 1829 aboard the 13th ship into Western Australia, the "Caroline".1  He made his way to be come a well-respected settler in the Greenough region.1  You can read further about William in Where there's a Will.
David was born in Denny, Scotland in 1840 to George Brand and Isabella Duncan.1  George's arrival in Australia could not have been more different to William's with George arriving aboard the convict ship "Stag" in 1855.1  David followed with his mother and siblings in 1859 aboard the "Hamilla Mitchell", immediately travelling to Greenough to join George.1  You can read further about George in George Brand – A Convict Success Story.
David and Susan married in 1869 in Greenough, Western Australia, an unusual union for the era as she was the daughter of a free settler and he was the son of a convict.1  They had ten children1:
1870 – Elizabeth Jane Brand
1871 – George David Brand
1873 – Isabella Brand
1875 – William Henry Brand
1877 – Andrew James Brand
1879 – Selina Brand
1881 – Fletcher Alderwin Brand (my great-grandfather)
1883 – Albert John Brand
1885 – Eugenia Maud Brand
1888 – Frederick Thomas Brand
Another unusual fact for the era – they all survived to adulthood.
Do you have any ancestors who had 10 children?  Did they all survive their childhood?  Tell me in the comments below.
Bibliography
1. Rickson, Rica, The Bicentennial Dictionary of Western Australians: Pre-1829-1888 (Nedlands, Western Australia, Universtiy of Western Australia Press, 1987), State Library Queensland, South Brisbane, Volume 1: A-C, pp. 292-294.