A couple of months ago my mum found a box of old photos.  As the keeper of all things ancestral, she handed them over to me.  What a find!  There were many photos I had never seen before and mostly of my dad.  I had never seen photos of him as a child and the finds in this box were delightful.  However, I found many photos I could not identify who is in the photo.
I asked dad – after all the majority in this box were his.  He remembered some but as he is suffers with dementia there were many he couldn't.  I scanned them and emailed them to some of his English cousins who were able to fill in some of the gaps.  However, many remain elusive.
The below photo has me totally intrigued but the connection to the family is unknown.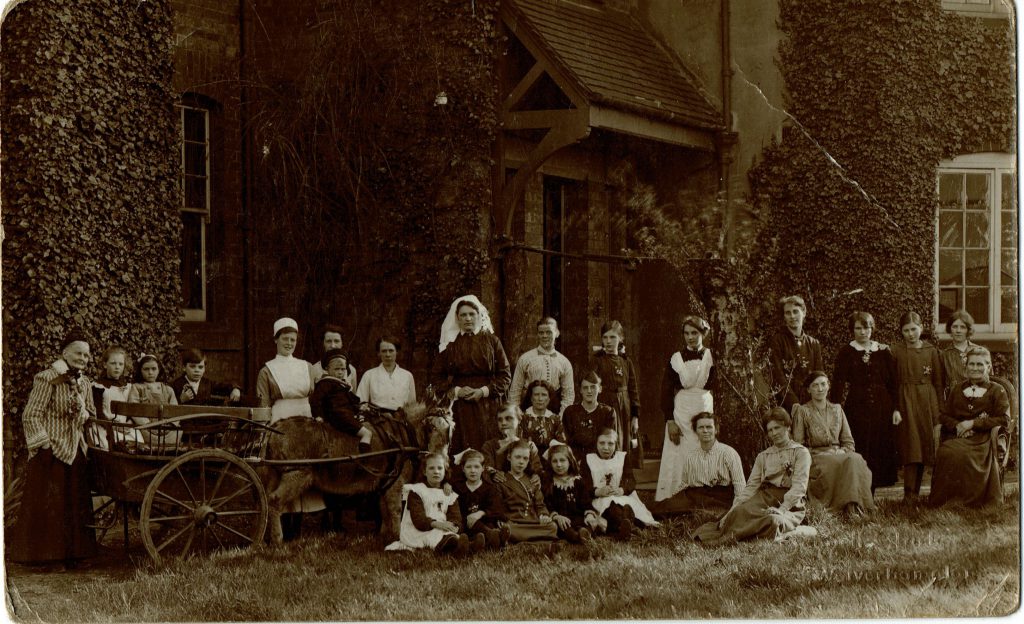 There was nothing written on the back but my daughter and I deciphered the embossed writing on the bottom right – Bennett Clark, Wolverhampton.  I immediately went to Google to find out information about the photographer.  I came upon this website with information about Bennett Clark:
Bennett Clark was Wolverhampton's best known local photgrapher.  His studio, operated by himself and then, under his name, by W.E. Hart, was active for more than 60 years, from the end of the nineteenth century to the 1960s.
I scanned the photo and emailed it to the website to see if they could further enlighten me about this picture.  They responded very quickly and were impressed with the quality of the photo I have, as it is the best they have seen.  They provided me with a couple of links to information with one site having a copy of the same photo.   The other site discussed St, Catherine's Convalescent Home, Penn, Wolverhampton, Staffordshire.
In 1873 Miss Sparrow established a convalescent home for woman and children. Initially only children from the Wolverhampton and Staffordshire General Hospital were admitted. In 1885 Miss Sparrow presented the home to the hospital "on condition that it be used as a convalescent home for women and children". The home was called St. Catherine's Convalescent Home and a ladies committee were appointed to supervise it.
I still do not know what relationship this photo has to our family.  My cousins in England are unable to help either.  I do know that a couple of my great aunt's went into service quite young with one becoming the housekeeper for a doctor.  Is it possible that one of them is in this photo?   Or is one of the ill children a family member?  I wonder if I will ever know who is in the photo?
I have since written a post about another photo I found in this box – Who is in the photo?
Have you got photos in your collection that you cannot identify?  What do you do to try to find out who is in the photo?  Please comment below and give me your suggestions!