I recently posted an article about a photo I found in a box my mum gave me called Who is in the Photo?  I liked writing it so much I've decided to make this a regular thing.  Today I present:
Who is in the Photo – V Day World War II Street Party.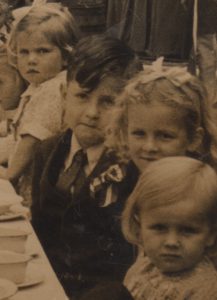 At first glance it is clear to see the photo is a street party, but how do I identify who is in the photo?  I looked closely and thought I could see my dad sitting at the table on the righthand side.  I scanned and emailed the photo to his cousins in England.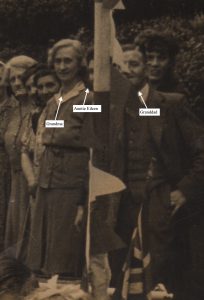 They confirmed I had indeed identified my dad but also pointed out my grandma, grandad, and Auntie Eileen.  I had missed seeing them as I have very few pictures of my grandparents and Auntie Eileen was obscured by the pole.
However, they didn't know where the party was held but suggested it was a street party held in dad's street in Stafford.  They lived in Willenhall so they weren't there.
I estimate my dad's age to be about 7 years old in the picture which would mean the photo was taken approximately 1945.  This would mean it is more than likely a street party to celebrate V Day World War II.  Just taking a look at the picture you can see elation, sadness, and war weariness etched into their faces.
What is V Day?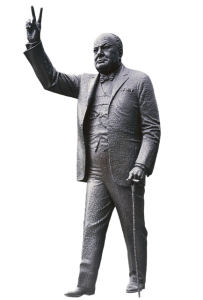 On 7 May 1945 the BBC announced that Prime Minister Churchill had declared "that Victory in Europe Day would be a national holiday, to take place the following day".1  However, despite the obvious happiness at this news people were still concerned as the war with the Japanese raged in the Pacific with surrender not occurring until August 1945.2,3

However, even with the reservation about the Pacific war, many people commenced celebrations on the 7th as soon as the announcement had been made.4,5    People had bonfires, danced, and headed to the pub.6,7  Given the previous 6 years of restrictions on food and clothing rationing, and the threat of air raids and bombing, it was understandable.8

Churchill assured the people there was adequate beer available for the task and lifted some rations for the purpose of the celebration.9  On V Day Churchill announced:
We may allow ourselves a brief period of rejoicing; but let us not forget for a moment the toil and efforts that lie ahead.

This is your victory.10
The crowd responded with a resounding:
No – it's yours!11
Buckingham Palace was a central feature of London's celebrations with King George VI, Queen Elizabeth, Princess Elizabeth, and Princess Margaret waving to the crowds.12,13  There was dancing in the street, pubs open late, large crowds congregating everywhere to celebrate.14,15

With food rationing in place, people had become very inventive with meals they prepared due to the limited availability of sugar, eggs, and meat.16  Celebrations would have included whatever was available and would have looked nothing like a celebration we would have today.17  More than likely there would have been sandwiches with beef dripping, which is the fat left in the pan after the beef is cooked.18  Other selections may have included: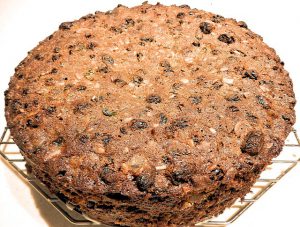 Lord Woolton Pie – diced vegetables topped with potato or pastry.19  Pork Faggots with
Onion and Gravy Mash; Corned Beef Hash; Spam; Liver Casserole – due to the limited availability of meat offal was frequently used as a cheap substitute.20
However, the one thing that every celebration needs is a cake but given the restrictions on sugar and eggs people had become resourceful – Eggless Fruit Cake would have been a welcome addition to the celebration table.21



Who are the others in the photo
I would love to know who is in the photo and assume they are neighbours of my family.  I have posted the image onto a Staffordshire Genealogy group to see if anyone recognises someone.  I have established, by using the 1939 Register, that my family lived at 62 Rowley Grove, Stafford and were still living there when my grandma died, four years to the day, on 8 May 1949.  I am therefore assuming it is taken in the street outside their home.  I can use the 1939 Register to check for neighbours in the street and find some names but who was still there in 1945?  However, given no 1941 Census was taken due to the war, I will have to wait until 2051 to see who still lived there in 1945..
.
.
.
1939 Register and your research
The 1939 Register is a great resource for genealogists who had relatives in the United Kingdom at the outbreak of World War 1.  It provides information of who was living at a given address at the time.  Anyone who is possibly still alive has their information redacted so you will only see the older generations details.  However, as time moves on they will release more of this information.  The 1939 Register is also unique in the way the National Archives has incorporated world events and maps into the project.  This means you not only get an overview of your family but also the context in which they lived.  A great resource you should have a look at today.
So do you know anyone in this photo?
Do you have any relatives in this photo?
Or do you have similar photos of V Day World War II Celebrations?
I would love to hear from you!
Have you ever used the 1939 Register to look for your English ancestors?  Click the image to head over to Findmypast to see where your family was at the outbreak of World War II.