The Old Homestead is the Week 13 Challenge for 52 Ancestors in 52 Weeks.  I could only think of one place to talk about. By the time I was 13 I had lived in two countries and three states of Australia and a total of 13 homes.  There was no real homestead in my life.  I had often heard the stories from my Western Australia relatives about "David Street", one of the homes my mum lived in as a child. This house was a centre point for many of them.  However, that is a story for another day.  The decision, in the end, was easy – I had to talk about "Ironbarks".
Week 13 – The Old Homestead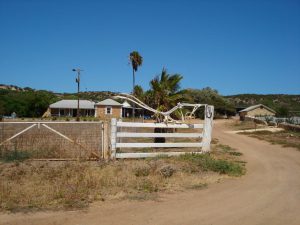 George Brand arrived in Fremantle, Western Australia aboard the convict ship "Stag" on 23 May 1855.1  Upon receiving his Ticket of Leave he worked for Charles Crother in Greenough.2,3,4  Following his pardon he leased 40 acres from Charles Crowther to become a tenant farmer, working alongside his family who had arrived in 1859 aboard the "Hamilla Mitchell".2,3,4,5
Building the Homestead
George commenced building the home, a small stone cottage, in 1861, and over the years the house was added to and became a sprawling homestead.3  The Brand family constructed the majority of the buildings on the property.3  In 1861 the barn was built and was used to conduct the Wesleyan Church Services.3,4  They farmed the land and bred livestock.3  In 1867, George's daughter, Isabella married at the property.
After George died in a buggy accident in 1872 the property lease was taken over by John and Reuben Morrell in 1879.3,6  John moved out when Reuben married Elizabeth Duncan in 1888, and they went to raise their 8 children at Ironbarks.3  In the late 1890's they extended the home to include a music room.3  In this time Ironbarks was the largest commercial producer of butter in the region.3  Following Reuben's death in 1919, the children Fred, Septimus, and Gladys took over the operation of the property.3  Septimus and Gladys remained there until 1980.3
In 1980 Mike and Sue Shields bought the property eventually selling to John and Pearl Marriot who sold it to Mike and Nova Piesse in 1994.3  Mike and Nova undertook extensive conservation work on the house including restoring the music room and laying timber flooring in the living area.3 They sold the property in 2005 and it is again on the market for $599,000.7
Even though the property went to the Morrell family, that was not the end of the link to the Brand family.  In 1900, George's granddaughter, Esther Daisy Brand married George Ernest Morrell.8  Then on 2nd September 1914, another of George's granddaughter's, Eugenia Maude Brand married Forrest Morrell in the Methodist Church, Dongara.9
Ironbarks Today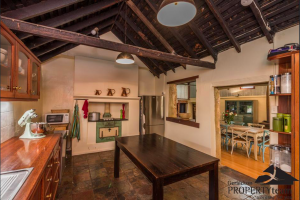 Ironbarks still stands today at 1237 Company Road, Greenough, on 30 acres, and is one of the oldest surviving properties in the Front Flats area of Greenough.3,7   It is situated near the Greenough river and the coastal sand dunes.3  Incidentally, it sits approximately 1km from the Brand Highway, named for George's grandson, Sir David Brand, Premier of Western Australia 1959-1971.10  The home is considered to be of great historical significance as it is associated with two pioneering families of the region – Brand and Morrell.3,7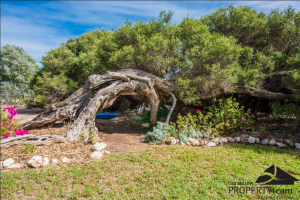 The original stone cottage built by George is situated to the rear of the home and is now the kitchen, boasting a pitched timber roof and shingle tiles.7  In the stunning lounge are beautiful jarrah floors and a fireplace.3,7  It has large melaleuca trees, possibly the property was named Ironbarks due to these, situated to the east and north-east of the homestead, and a large palm tree to the front.3  There is significant vegetation, walled gardens, and many outbuildings around the property.3 The front section, built in 1905, has a corrugated roof that extends to a covered verandah.3  In the courtyard between this section and the original cottage was roofed and is now a large living area.3
I would really love to visit Ironbarks and take a look around the home of my ancestors.  This is definitely on my bucket list!
Do you have an old homestead that means something to your family?  Tell me about it in the comments below.
---
Bibliography
1. Fremantleprison.com.au. 'Convict Database'. https://fremantleprison.com.au/history-heritage/history/the-convict-era/. Accessed 16 May 2016.

2. Geraldton Hospitality Inn, 'Ironbarks Old Forge', https://www.geraldton.wa.hospitalityinns.com.au/ironbarks, Accessed 16 May 2016.

3. City of Greater Geraldton, 'Greenough Heritage Places', https://www.cgg.wa.gov.au/Profiles/cgg/Assets/ClientData/Document-Centre/Planning/Heritage/Part_3_-_Greenough.pdf, Accessed 26 March 2018.

4. Erickson, Rica. The Brand on his Coat: Biographies of some Western Australian Convicts. Nedlands: University of Western Australia Press, 1983.

5. Ancestry.com. Western Australia, Australia, Crew and Passenger Lists, 1852-1930 [database online]. Provo, UT, USA: Ancestry.com Operations Inc., 2010. Source Citation: SRO of Western Australia; Albany Passenger list of Assisted Emigrants showing names of emigrants and from which countries selected; Immigration Record for Isabella, David, Isabella, Andrew, and George Brand, Accession: 115; Roll: 214. Accessed 5 June 2016.

6. Trove. 'Herald'. (1879, September 21). Fremantle, Western Australia (Fremantle, WA: 1867 – 1886), p.3. https://nla.gov.au/nla.news-article114441153. Accessed 31 May 2016.

7. Realestate.com.au, '1237 Company Road', https://www.realestate.com.au/property-house-wa-greenough-122381634, Accessed 26 March 2018.

8. Erickson, Rica and O'Mara, Gillian. The Bicentennial Dictionary of Western Australians. V. 9. Convicts in Western Australia, 1850-1887. Nedlands, W.A.: University of Western Australia, 1987-[1997].[Revision of Dictionary of Western Australians Vol. 2 Bond 1850-1868. Alphabetical listing of convicts and short biography of each].

9. Wedding Bells." Geraldton Express (WA : 1906 – 1919) 14 September 1914: 3. http://nla.gov.au/nla.news-article211762264, Accessed 12 August 2016.

Adb.anu.ed.au. 'Sir David Brand'. https://adb.anu.edu.au/biography/brand-sir-david-9571. Accessed 10 June 2016.
Image Credits
a. 'Ironbarks', Greenough, Western Australia. https://www.panoramio.com/photo/19112398. Accessed 15 June 2016.

b. 1867 Isabella Brand's Wedding at 'Ironbarks'. https://mv.ancestrylibrary.com/viewer/d6d7fd4b-8c41-4714-83d7-f2758cf874f5/54394119/13802447848? _phsrc=gqo97&usePUBJs=true. Accessed 10 June 2016.

c. Ironbarks Homestead. Geraldton Property Group, https://www.realestate.com.au/property-house-wa-greenough-122381634, Accessed 4 April 2018.

d. Ironbarks Kitchen. Geraldton Property Group, https://www.realestate.com.au/property-house-wa-greenough-122381634, Accessed 4 April 2018.

e. Ironbarks Vegetation. Geraldton Property Group, https://www.realestate.com.au/property-house-wa-greenough-122381634, Accessed 4 April 2018.