The screen door slammed behind Gladys as she came running into the house.
"Gladys!  Shut the door gently!" her mother called from the kitchen, where she was making lunch.
Breathlessly Gladys said, "The mail was in.  There is a letter from Hilton."
Edith wiped her hands on her apron and reached for the letter.  It had been nearly two months since they had last heard from him.  She sniffed it, hoping for any smell of her beloved youngest son.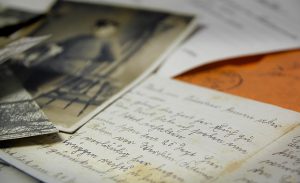 "Set the table.  Your dad will be home soon.  We'll read this when he gets here."
As Gladys finished the final touches on the table her father arrived.
"Hello," Robert said giving his wife a kiss. He noticed the letter waiting for him as he sat, "When did this arrive?"
"I picked it up when I went to the shops, dad."
As they sat down to their meal Robert read the letter. Hilton sounded in good spirits as he told them of the good times he had with his mates in between the fighting.
"It's good he's upbeat. I can't wait for this war to be over and we see him again," said Robert. The women nodded their agreement.
A knock at the door brought them back and Gladys jumped up to answer it. "Hello, Uncle Alfred. Mum and dad are in the kitchen," she said as she let him in.
Robert shook his son-­in-­laws hand, "Sit down, son."
As he sat Edith noticed the pink paper in the Reverend's hand.  She gasped, "Dear Lord, please, no."
---
Robert Hilton Matheson died 23 May 1918 in Somme, France one of the thousands from Western Australia who died in WWI.  Following his death, Edith and Robert renamed the family home "Hiltona" which can be seen in Electoral Roll records.  Gladys, my great-grandmother, and Hilton were the two youngest of ten children.  Hilton dying left only one son.  Reverend Alfred Lance married their older sister Ella May.  I do not know if he delivered the message, but after researching that clergymen usually delivered the bad news I thought it would be wonderful to weave him into the story.  This is the only photo I have of Hilton.
Read more of my ancestor fiction stories in Stories Under the Tree.
Do you have war heroes in your family?  Search the records at Findmypast by clicking the image to search for your hero ancestors.