George Brand and His Crimes
In 1851 George again found himself before the courts for theft.  A total of seven charges were put to him of numerous thefts from goods trains and trucks.1  At the time of these charges his occupation was listed as a potato dealer so it would seem that he used his prior knowledge from working for the Scottish Railway Company as a porter to continue his offending after his first conviction.1 His offending was carried over a distance from Glasgow through to Edinburgh along the railways.1 Some of these charges he plead guilty to and some he denied.  See the below summary of the charges:2
Click here to see George Brand – Summary of Charges
The map below shows the Stirlingshire area and how the railway line intersects these areas.  Compare this map to the Summary of Charges and his three declarations you can see how the areas that George committed his crimes – Alloa Junction at Powis Woods; Bonnybridge; Greenhill Junction, Falkirk; Stirling.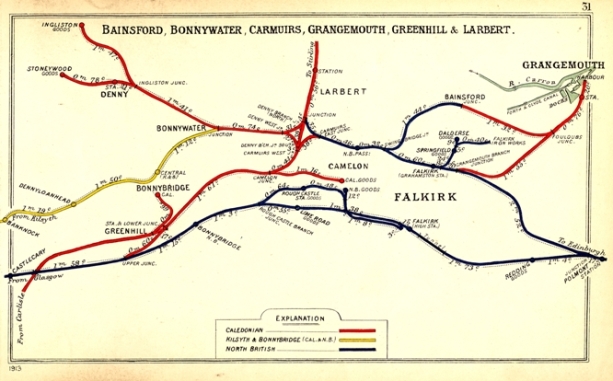 As can be seen, by the Summary of Charges his offences were quite prolific and as such the records of the court case, held in the National Records of Scotland, Edinburgh, run to 574 pages which consists mostly of evidence collected by John Gair, Procurator Fiscal of Falkirk.1,2  The indictments are against George Brand, William Murphy, Alexander Burt, George Donnelly, Samuel Rea and Joseph Donnelly, whom he was often listed with as a co-conspirator. 1  There were numerous items stolen from a multitude of businesses.  George provided three declarations for this second time of offending and on his first and second declarations denied all charges, however on his third he made admissions to a number of the charges and accepted his guilt.1  An example of this can be seen below pages of part of the documents where he firstly claims to have bought the cheese but later admits to stealing the cheese.
Ultimately George was sentenced on 1 March 1852 to 14 years transportation for theft in the Court of Justiciary, Edinburgh, Midlothian, Scotland, ironically to his birthplace's namesake on the other side of the world – Perth, Western Australia.3,4,5 Prior to his transportation, George was moved around a number of different prisons.
George Brand: A Convict Success Story – Part 1
George Brand: A Convict Success Story – Part 3
George Brand: A Convict Success Story – Part 4
George Brand: A Convict Success Story – Part 5
Do you have a convict ancestor?  Click on the below image to start searching for your convict ancestors at Findmypast today.
---
Bibliography
Image Credit: The Caledonian Railway of 1847 met the Scottish Central Railway at Greenhill. This remained the boundary between the Northern and Southern Divisions of the Company up until the Grouping in 1923. https://www.crassoc.org.uk/cra/sites/default/files/photographs/57.jpg. Accessed 18 June 2016.
1. Nrsscotland.gov.uk. National Records of Scotland. Source Information: Country Code: GB, Repository code: 234, Reference: JC26/1852/398. https://catalogue.nrscotland.gov.uk/nrsonlinecatalogue/details.aspx?reference=JC26%2f1852%2f398&st=1&tc=y&tl=n&tn=n&tp=n&k=George+Brand&ko=a&r. Accessed 15 May 2016.

2. 'Summary of the charges', undertaken by Diane Baptise, Researcher in Archives, https://scotsarchivesearch.co.uk. Portobello, Edinburgh, Scotland.

3. Erickson, Rica. The Brand on his Coat: Biographies of some Western Australian Convicts. Nedlands: University of Western Australia Press, 1983.

4. Fremantleprison.com.au. 'Convict Database'. https://fremantleprison.com.au/history-heritage/history/the-convict-era/. Accessed 16 May 2016.

5. Ancestry.com. Australian Convict Transportation Registers – Other Fleets & Ships, 1791-1868 [database on-line]. Provo, UT, USA: Ancestry.com Operations Inc, 2007. Source Citation Class: HO 11; Piece: 18. Source Information Original data: Home Office: Convict Transportation Registers; (The National Archives Microfilm Publication HO11); The National Archives of the UK (TNA), Kew, Surrey, England. Accessed 16 May 2016.