George Brand in Prison
The first records of imprisonment that can be found are of George being sent from Edinburgh Prison, Scotland to Millbank Prison, Middlesex, England on the 13 September 1852.1,2  Millbank Prison was opened in 1816 as the national penitentiary but the design was so poor that even the guards would get lost.3,4  Due to this, the decision was made to build a new prison, Pentonville, which opened in 1842 taking over Millbank's role.5,6  Millbank was then
downgraded to serve as a holding and sorting facility to decide where the final destination would be for convicts sentenced to transportation.7,8  They were held for three months, kept in solitary confinement and had to be silent for the first half of their sentence.9,10  In 1894 the National Gallery of British Art was built on the prison site with the following inscription on the last remaining buttress "Near this site stood Millbank Prison which was opened in 1816 and closed in 1890. This buttress stood at the head of the river steps from which, until 1867, prisoners sentenced to transportation embarked on their journey to Australia".11

George was issued prisoner number 23985 at Millbank and was described as a married, literate, Ploughman, 31 years, convicted for theft with others.12  As can be seen in this register he arrived with his co-conspirators George Donnelly, William Murphy, Samuel Rea, and Alexander Burt.13









George was moved to Pentonville on 16 October 1852 with William Murphy, Samuel Rea, and Alexander Burt whilst George Donnelly was sent to Defence Hulk.14  Pentonville Prison, Barnsbury, London was opened in 1842 to replace Millbank as the national penitentiary, due to the poor design of Millbank, and to house convicts prior to them being transported.15,16   The design of Pentonville was considered the perfect model and was used in the building of a further 54 prisons, and is still in use today as a major London penitentiary.17,18  It utilised the separate system design to isolate prisoners and forbade them to speak to each other.19  This silence continued in the exercise yard when they were required to march silently.20  For a more comprehensive history of Pentonville visit Notorious-Prisons.
On arriving at Pentonville George was issued prisoner number 4677 and he was described as 5' 7 3/4", weighing 13 stone 9 pounds with brown hair, grey eyes, a fresh visage and complexion, and being stout.21  It further describes him as being a married protestant ploughman with his family still living in Larbert, Stirlingshire, and that he had been of good character since being imprisoned.22  It also states he was sentenced to 14 years for theft on 1 March 1852 in Edinburgh and had spent 1 month and 3 days in Millbank.23

He was removed from Pentonville on 19 September 1853 to Portland Prison, Dorset with Samuel Rea, Alexander Burt, and William Murphy.24  Portland prison was built in 1848 to hold convict prisoners who were used to build the breakwaters of Portland.25  The new arrivals to the prison were first placed in solitary confinement prior to commencing work on the breakwater.26  The nearby quarries provided the 10,000 tons of stone weekly that was used in the breakwater.27  Every day over 1100 convicts were used to quarry and dress the stone whilst others were involved in general construction labour, with many dying who were involved in the quarrying of stone.28  Portland still operates today as Male Adult/Young Offenders Institution.29  For a more comprehensive history of Portland Prison visit Susan Hogben.
At some point, George, Alexander Burt, William Murphy and Samuel Rea were moved to Dartmoor Prison, Devon, which was originally built to house French prisoners in the Napoleonic Wars, and after 30 years of lying dormant was repurposed in 1850 as a convict jail.30  Convicts who had long-term or hard labour sentences were sent here and the first ones to occupy it came from prison hulks in the hopes of improving their health.31  In a number of  Quarterly Return of Prisoners, Dartmoor, Devon from 1853-1854 George's behaviour was listed as good or very good and the surgeon reports he was in good health.32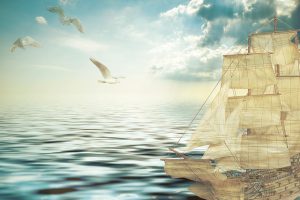 Prior to his transportation George was moved back to Portland and it was at this point George appears to have parted company with his co-conspirators.33,34  The Portland Prison Governor's Journal dated 27 January 1855 states that the convict ship 'Stag' sailed for Plymouth with 85 convicts to begin their sea voyage to Australia.35.  It is easy to envisage George being sent from prison to prison, so far from his family in Scotland knowing that his sentence of transportation would only see him travel a distance unable to be comprehended.
George Brand: A Convict Success Story – Part 1
George Brand: A Convict Success Story – Part 2
George Brand: A Convict Success Story – Part 4
George Brand: A Convict Success Story – Part 5

Do you have a convict ancestor?  Click on the below image to start searching for your convict ancestors at Findmypast today.
---
Bibliography
Image Credit: Pentonville Prison Separate System Design. Public Domain, By Joshua Jebb or employee. https://commons.wikimedia.org/w/index.php?curid=2993483.  Accessed 5 June 2016.
Image Credit: Portland Prison. Public Domain, https://upload.wikimedia.org/wikipedia/commons/8/8e/Portland_Prison_- _geograph.org.uk_-_214496.jpg. Accessed 15 June 2016.