Today, being Remembrance Day, I felt it fitting to remember my ancestors who served in World War I.  The brave men and women who served in the first world war (and of course all subsequent wars) are to be remembered for their bravery and sacrifice.  The families at home need to be remembered as well.  This war had a terrible impact on many communities around the world.  A total of 416 809 Australians enlisted of which 32 231 were from Western Australia.  A total of 61 514 Australians died in the war.   In the United Kingdom, a total of almost 6 million men were mobilised with just over 700 000 killed in the war. Over time I will post more about these heroes so remember to come back to the blog to read about them.
I had three close family members serve in WWI – two from Western Australia and one from England – and it's them that I will formally honour here today.
Fletcher Alderwin Brand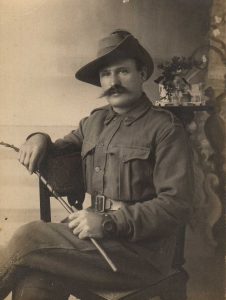 Fletcher Alderwin Brand, my maternal great-grandfather, enlisted in Western Australia on 23 November 1915.  He joined the 10th Light Horse Regiment, 15th Reinforcement and became a Private in the 10th Australian Veterinary Corps.  He embarked aboard the HMAT A38 Ulysses from Fremantle, Western Australia on 1 April 1916.  He served in Egypt and returned to Australia on 26 July 1919.
Fletcher was born in Dongara, Western Australia on 16 December 1881, one of ten children born to David Brand and Susanna Criddle.  At his enlistment, he was a 34-year-old widow, having lost his first wife, Lola Bayliss to meningitis on 2 March 1913.  He was a farmer so it makes sense that he joined the Light Horse, a company that holds a special place in Australia's heart.
Fletcher married Gladys Gwendoline Matheson (the younger sister of my next relative) on 10 June 1920, less than a year after his return.  They went on to have five children Alywin, Dudley, Marjorey, Donald, and Gweneth.  He was a dairy farmer in the Pinjarra and Muchea areas of Western Australia before moving to Mount Helena where he died on 23 August 1947.
Robert Hilton Matheson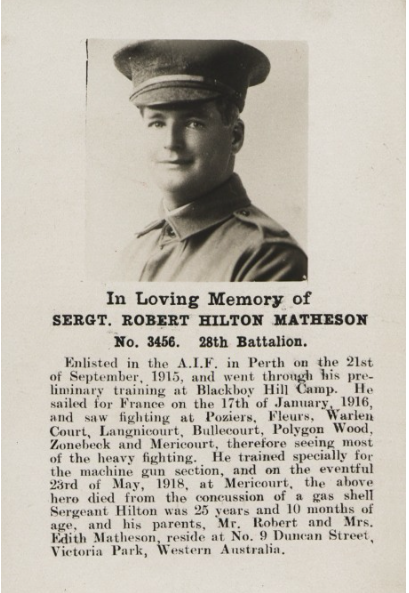 Robert Hilton Matheson, my maternal great- grand uncle, enlisted in Western Australia on 28 September 1915.  He joined the 28th Battalion, 8th Reinforcement and became a Private in the 7th Machine Gun Company.  He embarked aboard the HMAT A30 Borda from Fremantle, Western Australia on 17 January 1916.
Robert was born in Bathurst, New South Wales in 1892, the second youngest of ten children, born to Robert Matheson and Edith Ford.  At his enlistment, he was a 23-year-old single shop assistant residing with his parents in Victoria Park, Western Australia.
He saw service in many of the major battles of WWI including Poziers, Fleurs, Bullecourt, and Polygon Wood.  He was a Seargent when he was Killed in Action on 23 May 1918 in Somme, France.   He is buried in Ribemount Communal Cemetery Extension, Somme, France.  His parents were devastated by the loss of their son and renamed the home "Hiltona" following his death.  He received the British War Medal and Victory Medal.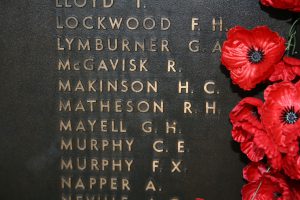 Robert's younger sister, Gladys Matheson married Fletcher Alderwin Brand after the war.
Howard Walker
Howard Walker, my paternal grandfather, enlisted in Staffordshire, England on 6 November 1914.  He joined the RAMC 35th Field Ambulance as a Private.  He served in the British Expeditionary Force in France from 30 March 1915 until he received a serious wrist injury on 3 February 1917.  He returned to active service in France on 4 January 1918 with the Tank Corps.  He was formally demobilised on 7 January 1919.  He received the British War Medal, Victory Medal, Silver War Badge, and 1914-1915 Star.
Howard was born on 29 July 1893 in Short Heath, Staffordshire, one of eight children, born to Aaron Walker and Alice Elizabeth Washbrook.  At his enlistment he was a 20-year-old attendant in a mental hospital so joining the Field Ambulance was a logical choice.
Howard married Dorcas Stokes on 26 October 1925 in Short Heath, Staffordshire.  They went on to have two children, my Auntie Eileen and My Dad.  Howard was a mental nurse for a number of years before working as an oil filterer at the General Engineering Works.  According to family stories, he suffered greatly from his effects from the war and unfortunately my dad and aunt were not close to him.  Cousins, whom I have had contact with in recent years, said his war trauma was only heightened by his work as a mental nurse assisting with electric shock treatment.  He died on 18 November 1966 in Walsall Hospital.
Lest We Forget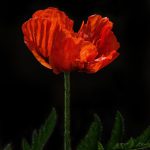 To my three brave ancestors mentioned today, to other family members who have served in subsequent wars and years, and to all your families and comrades in arms – I thank you for your service.  Life was not always easy for those who returned and it is only recently we understand the impact "shell shock", that has haunted many of you, had on your lives.
Please pause for a moment today and take time to remember the sacrifice of these brave men and women of all conflicts.
"They shall grow not old, as we that are left grow old: Age shall not weary them, nor the years condemn.  At the going down of the sun and in the morning, We will remember them." 
Do you have any ancestors who served in WWI?  I would love to hear about them – please comment below.