Jonah sat with his head in his hands. He had no idea how he was to continue. It was bad enough that young Sarah and George had to die but why did God have to take his Henney as well? How could he do it all ­ raise the remaining children and work?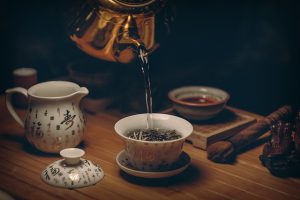 "Dad do you want a cup of tea?" asked Catherine surprising him out of his thoughts.
Looking up, Jonah replied, "Yes, please." As he watched Catherine boil the water he knew he couldn't let his three remaining children down. Henney would be furious with him if they ended up in the poorhouse. Here was Catherine, just a child, who was taking care of him. As if to emphasise the fact she started preparing porridge for breakfast for the four of them. Since Henney had died three weeks ago Catherine had taken on all the household jobs and here he was moping and feeling sorry for himself. The children had lost as much as he had, and it was time he picked himself up and cared for them.
As if on cue, Harriet started hollering from her crib. "I'll get her dad," said Catherine wiping her hands on a tea towel.
"No darling, you keep going with the porridge, I'll go see to her and get Aaron up as well," said Jonah as he stood up to head into the bedroom.
Catherine looked after her father with a tear in her eye. Finally, she thought, dad is back.
---
Another story about Jonah Walker but from a slightly different angle than "The Census Collector".  Jonah and Henney were my second great grandparents, young Aaron my great-grandfather. This scene is pure speculation as after years of searching I have not been able to find evidence of what happened to Henney, Sarah, and George. They existed on the 1861 England Census but were gone by the 1871 one. It is all speculative that they died, however, given the time period, it would not be unheard of to lose this many family members to illness. For some reason, this couple keeps pulling me back in as I try to search what happened to the family.
Have you found your ancestors in census records?  Click on the link below to start searching Ancestry with a free 14-day trial today!