The convict ship "Stag" departed England, bound for Fremantle, on the 27 January 1855.  George Brand was one of 85 convicts onboard.  George was 33 years old and did not consider himself a handsome man.  He had scraggly brown hair that was lightly balding, a sallow complexion with grey eyes and whilst quite tall at 5' 8" he was a bit stout.
George had inwardly laughed at being told he was stout.  He had no idea how he still carried some weight with the hard labour he had undertaken in the numerous prisons he had been sent to – Edinburgh, Millbank, Pentonville, Portland and Dartmoor.  The one thing he was sure of, was that he was an idiot who had let his family down terribly.  Not for the first time, he was angry with himself for putting them all in this position.
Since his conviction in Edinburgh on 1 March 1852, he had spent many years in prisons hoping to serve his time in England and return to his family in Larbert, Scotland.  That was not to be.  The government had finally come good with their promise of transporting him.  He had written to Isabella and the children to tell them that he was, at last, being sent to Australia.  As he lay in his bed he allowed himself to reflect on how he had got to this point.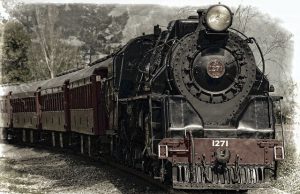 Life had been going so well.  When the Scottish Railway Company opened the train station at Larbert in 1848, connecting them to Glasgow and Edinburgh.  He had applied and obtained the position of porter.   He was earning a decent wage and for the first time, they had some savings put aside.  Then one of his mates, Charles Forrester, had suggested that they could take a few things and offload them on the cheap to make some easy money.  They were caught, he lost his job, and he spent six months in prison.
After his initial release from prison, he obtained work as a potato dealer, with no chance of getting his porter job back after the thefts.  Money was tight and so when his mates William Murphy, Alexander Burt, and Samuel Rea came up with the idea of thieving from the railway, given his knowledge, he took the chance.  Why had he listened to them?  He justified it at the time that he they needed more money as he was not bringing in enough to support Isabella and the children.  This decision was going to cost him dearly.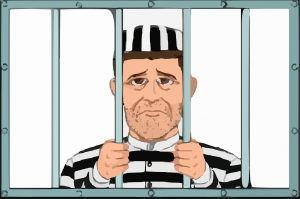 He remembered the cell door banging shut behind him in the Falkirk police cell.  He had realised at this point that he had really screwed up.  This was the second time he had ended up in the police cell and he knew this time he would be punished severely.  He was warned last time by the magistrate that if he were to be caught again he would not be so lenient with him.  George said he understood and promised to be on his best behaviour.  So as the cell door shut this time he knew he was in big trouble.  Isabella was going to kill him.
The police had arrived at his house at 4 am and demanded to come in.  The fear on Isabella and the children's faces haunted him.  He had only just returned from his thieving along the line and still had the goods on him.  Apparently, they were also raiding the houses of William, Alexander, Samuel, and brothers, Joseph and George Donnelly.  This meant that they were all done for as they had not had a chance to offload the goods.  However, if they all kept their mouths shut, maybe they could get away with it.
His first interview had not gone well.  Robert Robertson Esquire Advocate Sheriff Substitute of Stirlingshire had refused to believe him when he said he knew nothing.  Apparently in exchange for a reduced sentence Joseph had told them the whole set up.  He didn't know how Joseph's brother George would feel about that!  There was obviously no way of getting out of this.  He was returned to his cell to think about things.
In 1850 they had gotten away with stealing cloth, tobacco, and rum.  It made it easy given Samuel was able to offload the goods for a decent penny.  George and Joseph Donnelly had got in on the act and with them running a pub it was a coup for them all.  Free goods and normal markups!
During September, October, and November they hadn't confined their crimes to just the Larbert siding, instead stealing from Stirling through to Glasgow.  They had gotten too cocky.  The railway company and police had been watching them.  The raid had found him with ham, cheese, cloth of all types, clothing, blankets, and gallons of rum.
The warden came and got him again and took him in for another session with the Sheriff.  George decided that he was going down anyway so he would just tell the Sheriff the full story in hopes of a lighter sentence.  It did him no good.  He was sentenced to 14 years transportation.  The guards had allowed him a few minutes with Isabella after his sentence was passed and all he could do was apologise to her.  The look of anger, disappointment, and fear in her eyes only served to make him more depressed.
As he felt the ship rolling with the waves he knew each one was taking him further away from his family and Scotland.  He would probably never see them again.  Boy, had he screwed up.  As he lay on his bed he made a promise to his family to behave and work hard hoping that one day he may be able to send for them.
Do you have convict ancestors?  Search for them today on Findmypast by clicking the below image.