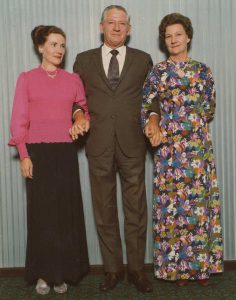 As I still have several weeks to catch up on in the 52 Ancestors in 52 Weeks Challenge, I am moving straight onto week 3.  I hope you enjoy reading about my grandma.
Week 3 – Longevity
This has proven to be a harder task than I thought it would be.  I am sure there are people in my tree who have lived very long lives, but how to find them is difficult, especially given I have nearly 3000 people in my tree.  Making the decision to go with my direct line ancestors – grandparents, great-grandparents, great-great-grandparents.  The only direct line ancestor who lived to 90 years was my maternal grandmother, Marjorey Brand.  By coincidence, her second husband lived to 91 years.
.
Marjorey June Brand – Early Years
Marjorey June Brand was born on 5 June 1925 to Fletcher Alderwin Brand, a dairy farmer, and Gladys Gwendoline Matheson, in Pinjarra, Western Australia.1 She was baptised on 26 July 1925 at Victoria Park Methodist Church, Perth, Western Australia.2 She was the third of five children – Alywin, Dudley, Marj, Donald, and Gwen.
.
Marjorey June Brand – Marriage and Children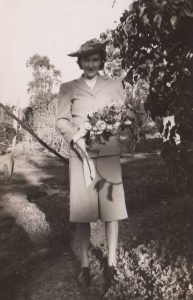 Marj became engaged to a young dairy farmer, Albert "Byro" James Newman, on 29 October 1942.3  Marjorey married Albert on her 18th birthday, 5 June 1943, at the Methodist Church in Mt Helena, Western Australia.4  They went on to have two children, a daughter (my mother) in 1944 and a son in 1948.  Unfortunately, theirs was not a happy marriage, and Marj made the very difficult decision in the early 1950's to leave with her two young children.  Their divorce became final on 11 June 1957.5
.
Marjorey June Brand – A Hard Life
The ensuing years were quite difficult for Marj as she struggled to provide for her children.  I heard many stories from my mum of moving regularly between Perth and Dongara quite often caring for elderly relatives.  She was a wonderful homemaker and could cook and sew beautifully.  Her knitting skills were amazing.
A home in David St, South Perth became the most stable home of my mother's childhood, and cousins regularly talk of going to David St.  In the early 1960's her cousin Horace "Horrie" Lance's wife, Lillian, became very unwell and Marj took in their young daughter to care for her whilst her mother received treatment.  Unfortunately, in June 1963 Lillian died and Marj continued to care for their daughter.
.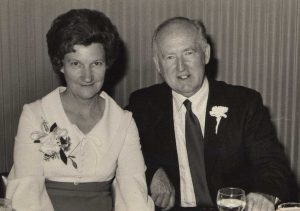 Marjorey June Brand – Second Marriage
On 26 July 1964, Horrie and Marjorey married in Pangbourne Street Methodist Church, Wembley, Western Australia.6  The couple started their married life with Marj's daughter, and Horrie's daughter and two sons in Dumfries Road, Floreat Park.  They moved to Duncraig in the late 1970's before moving to Mt Claremont in the 1990's. On 1 December 2001, Horrie died after a long illness, at 91 years, in their home in Mt Claremont.7

.
Marjorey June Brand – The Later Years
In 2007, as she was struggling to survive on a single age pension, Marj decided to move to Brisbane, Queensland to live with my children and me.  In 2016, a particularly difficult year for my family, we had to put her into a respite nursing home care.  Due to her declining health, we made the decision to bring her home on palliative care.  In mid-May the family gathered – her sister Gwen, step-daughter, and eldest step-son (who had all flown urgently from Perth to be with her), my mum, myself, and my two children – to care for her.  She passed away at 11.47pm on 23 May 2016, just 12 days short of her 91st birthday.
Not one to differentiate between her biological and stepchildren, our matriarch of the family left behind 5 children, 13 grandchildren, 11 great-grandchildren.
.
Who was your oldest ancestor? Share your story in the comments below.
---
Bibliography
1. Birth Certificate for Marjorey June Brand Born 5 June 1925, No.39/1925, (Murray, Western Australia: Department of Justice, Births, Deaths and Marriages, Perth, Western Australia, 1925), https://bdm.justice.wa.gov.au/.
2. Certificate of Baptism of Marjorey June Brand, (Methodist Church of Australia, Pinjarra, Western Australia, July 26, 1925), Original copy in possession of Megan Walker, Forest Lake, Queensland, Australia.
3. The West Australian, 'Engagements', http://nla.gov.au/nla.news-article47352979, Accessed 4 April 2015.
4. Marriage Certificate for Albert James Newman and Marjorey June Brand, Married 5 June 1943 (Perth, Western Australia: Registry of Births, Deaths and Marriages, 1943), https://bdm.justice.wa.gov.au.
5. Final Orders Matrimonial Causes of Albert James Newman and Marjorey June Brand, Divorced 5 March 1957, No.609/1956, (Perth, Western Australia: Supreme Court of Western Australia, 1957).
6.

Marriage Certificate of Marjorey June Newman and Horace Alfred Lance

, Pangbourne Street Methodist Church, Wembley, Western Australia
7. Death Certificate for Horace Alfred Lance, Died 1 December 2001,No.155650V, Department of Justice – Births, Deaths, and Marriages, Perth, Western Australia, https://bdm.justice.wa.gov.au.