The week 16 52 Ancestors in 52 Weeks challenge is Storms. I chose to write about Cyclone Tracy that hit Darwin in 1974. There is a small connection to my family from this storm.
Week 16 – Storms
Cyclone Tracy
Australia is not unaccustomed to cyclones.  Northern Australia – Queensland, Darwin, and Western Australia are well practiced in preparing for them from November to April.1  It was December 1974 and Darwin, Northern Territory was busy preparing for Christmas like the rest of Australia.  However, this would be a Christmas that Australia and Darwin would never forget.
On 21 December 1974 the Darwin Weather Bureau identified a tropical low that had the potential to form a cyclone.2  Warnings were issued but many believed it would pass Darwin city.2  They were wrong and after some serious wind gust brought damage in the evening of 24 December 1974 the residents realised they were in trouble.2
At 3.05am 25 December 1974, wind gusts of 217km/hour were recorded at Darwin Airport.2  The wind gauge was destroyed at 3.10am with estimates the damaging winds eventually reached 240km/hour.2  Rapid expansion of the city to 43,500 people in the years prior to 1974 meant many buildings had been built unable to withstand the cyclonic force.2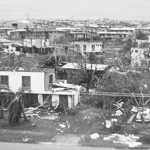 Cyclone Tracy killed 65 people and Darwin Hospital treated over 500 hundred people.2  In the aftermath, the city had to worry about lack of shelter, food, and the real threat of disease with no water, electricity, or sanitation available.2  The majority of the population was evacuated – 35,362 people in total with the elderly, sick, women, and children going first.2 Just over 10,000 people remained to assist in the cleanup.2
Evacuations
My grandma and granddad answered the call to take in refugees from Darwin, taking in a young family.  They told me the story of the young boy arriving holding his kitten. He had kept hold of it throughout the cyclone and the subsequent evacuation. They were all saddened when shortly after the family moved into their own accommodation in Perth the kitten was hit by a car.
As you can see a small link to my family in the aftermath of Cyclone Tracy.  I was still living overseas when it happened but my childhood upon arrival in Australia was punctuated with the Cyclone Tracy story.
---
Bibliography
1. World Meteorological Association, FAQ's Tropical Cyclones, https://public.wmo.int/en/About-us/FAQs/faqs-tropical-cyclones, Accessed 16 April 2018.

2. Wikipedia, 'Cyclone Tracy', https://en.wikipedia.org/wiki/Cyclone_Tracy, Accessed 28 March 2018.
Image Credits
a. Wikimedia, 'Cyclone Tracy', https://upload.wikimedia.org/wikipedia/commons/thumb/b/b3/Cyclone_Tracy.png/551px-Cyclone_Tracy.png, Accessed 16 April 2018.

b. Wikipedia, 'Cyclone Tracy', https://en.wikipedia.org/wiki/Cyclone_Tracy, Accessed 28 March 2018.