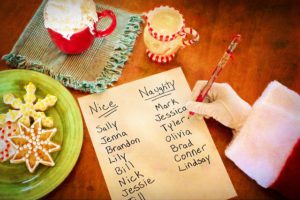 As we head into Christmas, children around the world are worrying whether they will end up on Santa's naughty list.  Fittingly the 52 Ancestors in 52 Weeks challenge this week is Naughty.
52 Ancestors in 52 Weeks – Week 50: Naughty
All of us at some point have done something naughty.  Most of the time it's little things and sometimes it is a big thing that can land you in prison.  I was so a mischievous as a youngster I ended up in the newspaper!
When we lived in London the newspaper ran a series called "Scamp of the Week."  I took out the honours on 28 June 1973.  The below is the article as it appeared in the newspaper that day.  I was definitely a mischievous child!
Have you got some "naughty" stories from your ancestors?  Do you have some funny things your children have done that are really "naughty"?  Share them with me in the comments.