To say I have struggled to come up with a topic for this week's challenge is an understatement!  I have procrastinated over it.  The week 20, 52 Ancestors in 52 Weeks challenge is Another Language and the guide for it was "You could write about an ancestor who spoke a different language than you do. You could highlight the first time that you had to work with a record in another language. Maybe there's an epitaph on an ancestor's tombstone that's written in a different language. Is there an ancestor who spoke more than one language?"
Where was I to start?  All my ancestors were English or Scottish.  I have never found someone from anywhere else in my tree.  I don't know of any ancestors who speak a different language or more than one language.  I have no headstone photos with an epitaph in another language – not even Latin!  So instead I have decided to write about some place names relevant to my family that are based on Aboriginal words.
Week 20 – Another Language
In Australia each of the states have unique place names relevant to local Aboriginal tribes of their region.  Today I will share with you some of the place names that are relevant to my family history.
Queensland
I have spent the majority of my life in Queensland and have many connections to places that I've either lived, worked, or holidayed.  Some of these are listed below:
Beerburrum – "Bir-barram –  sound of wings of the King Parrot"1, I have regularly driven on the highway through the Beerburrum pine forest on trips to the Sunshine Coast.
Boonah – from "Buna' – a bloodwood tree"1 is a beautiful spot in the Scenic Rim of Brisbane.
Capalaba – means place of the scrub possum; derived from "kappella and ba – place of the scrub possum".1  I worked for a short time in Capalaba many years ago.
Coochiemudlo – "Coodgee Mudlo / Kutchi mudlo – red rock".1  This island off the coast of Brisbane in Moreton Bay is a popular place for day-trippers due to its proximity to Brisbane and the watersports on offer in the calm ocean.
Coorparoo – from "koolpurrum – refers to mosquitoes".1  I have worked in Coorparoo and this lovely older suburb of Brisbane has some beautiful traditional Queenslander houses (see image a).
Goodna – means "dung"1 – the Evan Marginson Park during Jacaranda season is a site to behold.
Inala – "resting time or night time"1 – was originally a war service home suburb but now is a mulit-cultural suburb with a large population of Vietnamese making the fresh food markets the place to pick up Asian vegetables.  I worked here many years ago.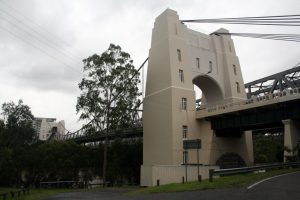 Indooroopilly – "gully of leeches"1 is an inner West suburb of Brisbane on the river.  The bridge boasts towers that people lived in on both sides of the river crossing (see image b).
Moorooka – it is believed to originate from "mooroonga – ironbark".1  I spent considerable time as a youth in the Moorooka area as I lived nearby.
Pinkenba – from "Binkinba – place of land tortoise"1 – again a suburb I have worked in.
Tallebudgera – means "rotten or decayed logs"1 – there wouldn't be many children who grew up in the Southeast corner of Brisbane who didn't attend a school camp at Tallebudgera.
Toowong – from "tuwung – koel / cuckoo"1 – very near to Indooroopilly and boasts the historic Toowong Cemetery, a beautiful place to wonder around and the view over the city from the top is lovely.
Woolloongabba – from "woolloon-capemm – whirling water"1 for the original waterholes that were in the area.  Anyone who has an interest in cricket would have watched games played at 'The Gabba'.
Wynnum – from "winnam – breadfruit or Pandanus tree"1 – a beautiful spot on the seafront to take a stroll.  I worked in the suburb many years ago.
Yeronga – from "yarungnga / yarung – gravelly place or yurong – rain"1 – I spent many years of my childhood in the suburb.
Yeerongpilly – means "sandy or gravelly gully"1 – I spent many years of my childhood in the suburb.
Western Australia
Coolgardie – Depending on the source this name originates from "koolgoor – a rockhole surrounded by mulga trees" or "Coorgardie – the large Bungarra lizard".2  My Newman and Bridges side of the family were connected to the Coolgardie region.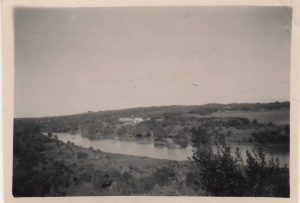 Cowaramup – in the Margaret River district it is understood that this name is derived from "Cowara – Purple Crowned Lorikeet."2  My great-grandparents Ruth (Bridges) and Frederick Newman owned a property in the region.
Dalwallinu – in the Wheatbelt district means "a place to wait awhile".2  I have a couple of photos in my collection of my uncle as a young boy that says "Dalwallinu" on the rear.  I haven't yet established the relationship to my family.
Dongara – a town near Geraldton on the Mid West of WA, Dongara is said to "Thungarra – refers to the mouth of the Irwin river…..and is a place of the fur seal" (see image c).2  My mum spent a significant part of her childhood in Dongara.  My Brand and Criddle ancestors have a very strong connection to the region
Innaloo – This suburb was renamed in 1927 as the previous name of "Njookenbooroo" was too hard to pronounce.3  Innaloo was chosen being the name of an Aboriginal name from Dongara.3  Innaloo is not strictly related to my family tree but I remember as a teenager going on a holiday to Perth to visit the family in the summer of 1990-1991.  My brother and I were very keen to see Back to the Future III that had recently been released in Australia.  The closest cinema to where we were staying was Innaloo.  We found the name funny – imaging saying you live in Inn-a-loo!  I have numerous ancestors from the Dongara region so there is a small connection to my family tree.
Jindalee – the meaning is "a bare hill.3  This is the name of a suburb in both Perth and Brisbane – I drive through the Brisbane one regularly.
Kalgoorlie – there is some debate where this originated, however it is believed to be either "Galgurli – name of a shrub" or "Kulgooluh – edible silky pear".2  In the same vicinity as Coolgardie I have many ancestors on my Bridges and Newman side who were born, died, or lived there.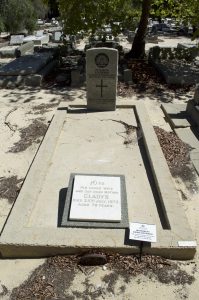 Karrakatta – katta means "hill" but karra has many possible meanings – Karri "a crab", Karak "the red-tailed black cockatoo", Kara "a spider", Karh-rh "an orchid with an edible root".3  It could therefore mean the top of the hill where the orchid is found, top of the hill where the red-tailed black cockatoo goes, the hill where spiders are found.3  Karrakatta is a suburb in Perth that has the large Karrkatta Cemetery in it and I have numerous family members buried there (see image d).  I have written about Karrkatta Cemetery a couple of times: Cemetery Renewal, Karrakatta Cemetery and 52 Ancestors in 52 Weeks – Week 17: Cemetery.
Mullewa – another place in the Mid West that is connected to my family and means "place of fog".2  My grandfather died here in 2004.
Mandurah –  this seaside town just south of Perth is believed to derive its name from "mandjar" that means "trading place".3  I have family who live in Mandurah and on my most recent trip to WA I was introduced to the thrombolites – ancient living fossils that look like rocks.
Mundaring – the local Aboriginals told a local settler that the place meant "a high place on a high place" and was pronounced "Mundahring" but over the years it has become known as "Mundairing".3  I have visited Mundaring Weir, in the Perth Hills, on a number of my holidays to Perth.
Pinjarra – means "place of a swamp" and is where my grandmother was born in 1925.2
Yanchep – the Aboriginals the native flax a "yanget".3  Yanchep is a beautiful spot to visit about 55km north of Perth city.
Do you know of a strange place name that is from another language?  Share your story in the comments below.
---
Bibliography
1. State Library of Queensland, 'South East Queensland Placenames', http://www.slq.qld.gov.au/resources/atsi/languages/queensland/southeast-queensland-placenames, Accessed 20 May 2018.

2. Landgate, 'Town Names', https://www0.landgate.wa.gov.au/maps-and-imagery/wa-geographic-names/name-history/historical-town-names, Accessed 20 May 2018.

3. Kaartdijin Noongar – Noongar Knowledge, Perth Suburb Original Names, https://d1y4ma8ribhabl.cloudfront.net/wp-content/uploads/2013/03/Perth-suburbs-aboriginal-names.pdf, Accessed 20 May 2018.
Image Credits
a. 'Rockmount', Image Courtesy of realestate.com, Accessed 28 May 2007.

b. Wikipedia, 'Walter Taylor Bridge', Photo taken by Paul Guard, https://en.wikipedia.org/wiki/Walter_Taylor_Bridge#/media/File:Walter_Taylor_Bridge.jpg, Accessed 20 May 2018.

c. Mouth of river, Dongara, WA, Circa 1950, Original in author's possession.

d. Karrakatta Cemetery, Grave of Fletcher Alderwin and Gladys Gwendoline Brand, Original in author's possession.
SaveSave