I have gotten a bit behind on the 52 Ancestors in 52 Weeks challenge with my UK trip and so now face the daunting task of catching up.  The Week 36 challenge is Work to coincide with Labour Day in the USA – in Australia ours is May.  I have chosen for this topic to write about a common occupation in my Staffordshire ancestry – Lock Makers.
Week 36 – Work
Over the centuries different areas of England were known for their specific industries with skills being passed down from generation to generation.  One of the industries that comes through a couple of generations in my ancestry is lock making.  Lock making was a very important industry in the 19th and 20th Centuries in Willenhall, an area where many of my ancestors were.1,2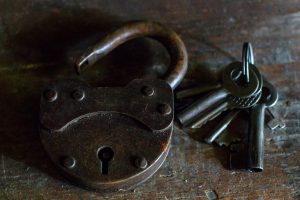 Lock-making included the occupations of locksmith, cabinet lock, padlock, rim-lock, and key-makers2  It is estimated that in 1855 there were 340 backyard workshops involved in the manufacturing of locks, but as the industry grew the backyard workshops decreased as the bigger manufacturer's employed these tradesmen.1,2 
At one time 90% of the locks for England were produced in the Willenhall and Wolverhampton region with 85% of these been made in factories and not the backyard workshops that had been prevalent in earlier years.1  The industry became less important and the numbers had dwindled to 14 manufacturers in the region with just four of these manufacturer's remaining today.2

I have two lines in my family, from Willenhall, who were lock-makers for a couple of generations.
Simeon Walker, my third-great-grandfather, was listed as a Lock Key Stamper, Keyfitter, and Keysmith on various records – baptisms, census, and wedding – throughout his life from 1819-1845.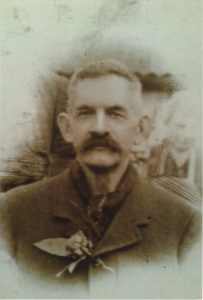 Jonah Walker, Simeon's son, continued the tradition being listed in records – census, marriage – as a Locksmith, Rim Lockmaker, and Lockmaker from 1851-1901.
Aaron Walker, Jonah's son, continued this tradition with his occupation listed as Lock Key Stamper, Journeyman, and Ironstamper on Census, marriage, and birth records from 1888 – 1901.
John Washbrook, my third-great-grandfather, was a Locksmith, Key Maker, Keysmith listed in Census, Baptism, Marriage, and Trade Directories from 1821-1872.
Frederick Washbrook, John's son, continued the tradition as a Lockmaker from 1851 – 1888, with Publican being included from 1871, in records including baptisms, census, and marriage.
Aaron's eldest son, Howard Walker went on to marry Frederick's youngest daughter, Alice Elizabeth Washbrook in 1888.  This was the end of the lockmaking tradition in the Walker family as Howard chose to enter nursing, and Aaron was the sole surviving son of Jonah.
What occupations are prevalent in your family?  Tell me about it in the comments below.
---
Bibliography
1. Black Country Living Museum, 'The Locksmith's House', https://www.bclm.co.uk/media/locations/library/lh-history.pdf, Accessed 21 October 2018.

2. British History Online, 'Walsall: Economic History', https://www.british-history.ac.uk/vch/staffs/vol17/pp180-208#h3-0010, Accessed 21 October 2018.