What is Trove?
Have you ever wondered where to source old Australian newspapers, journal articles, or maps?  Then Trove is your solution.  Trove is an online service provided by the National Library of Australia and is a real treasure trove of information for genealogists.  It contains many Australian resources from libraries, museums, and archives, for you to explore.  This repository grows daily and contains links and print materials for you to access.  Some of the content they hold: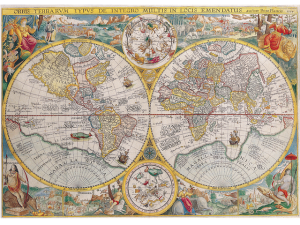 Books and book chapters

Journal articles

Theses

Objects

Pictures – photos, art

Music – printed, recorded, videos

Interview and Sound recordings

Maps and archives

Full-Text Australian newspapers 1803-1954

Australian Women's Weekly 1933-1982

Archived websites 1996-current

Information about organisations and people

List of resources provided by other users
.
Trove Guides
Trove has many guides to help you find the content that most interests you.  Some of the topics included in the Trove help section are, with many more options contained under each of these topics:
.
Using Trove
There are many resources on Trove that are available online, however, whilst some are free, some do have access conditions.  Due to the size of Trove, it is quite possible that you will sometimes come across a broken weblink.  Trove suggests you search the site where the information was contained to see if you can find it or contact the website to find where it is now.
Text correction guide – Trove is very interactive and encourages users to correct issues.  One of the ways is to edit the automated transcription to fix errors and improve the search function within Trove.
Getting and Using Resources – Trove contains information about resources and metadata that are contained in other repositories.  If you find something you are interested in you may be able to purchase or borrow a copy of items.
.

Creating and Contributing
Trove is all about collaboration and people are encouraged to share their knowledge, update metadata, correct newspaper text, tag and comment on the online resources.  The help centre has information on creating items for you to read.
.ab
Partners – working together with Trove to share your collections
Building with Trove – information on building your own tools and resources using Trove's Application Programming Interface (API).  Researchers and developers are encouraged to engage with Trove and use the rich data sources they have available.
.
Interact with Trove
There are many ways to interact with Trove on Social Media

.
.
.
Trove Australian Newspapers and the Genealogist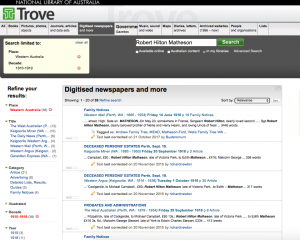 This is the part I love about Trove – their digital newspaper collection.  This amazing resource allows you to search Full-Text Australian newspapers from 1803-1954. You have free access to newspaper articles, advertisements, obituaries, family notices, and anything else you can think of that would be contained in a newspaper.  Just put who/what you are searching for and let Trove do its magic.  You can then filter results by:
Location

Newspaper – select which newspaper you wish to search

Decades which you can gradually filter down to years and then months.

Categories – Family Notices, Obituaries, Advertisements etc.
In the Trove Search Results image, I screenshot from Trove, I have searched for Robert Hilton Matheson, my great-uncle.  I have then nominated Western Australia as the place I want to search, and then 1910-1919 as the decade I wish to search in.  This returned 38 results that I can explore further.
.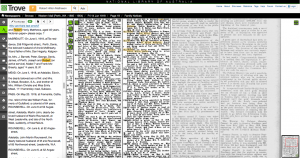 When you click on the search result you want to read it will take you directly to the page of the newspaper for you to read the full-text of the item.  I selected the first article in the Trove Search Results and was taken to the Trove Newspaper Article for Robert Hilton Matheson.  On the far left you will see a selection of buttons – these allow you to download, cite, tag, comment, share, or print the article.  Next to these buttons, you will see a transcription of the article – this often has errors and users are encouraged to spend time editing these for future searches.  On the right is the page of the paper your item is contained within.  In the bottom right you will see a tiny box that lets you see where on the page your content is contained.
.
.
You can download this item in a number of ways:
Article – downloads only the article that you searched and you can choose a JPEG, PDF, or Text file

Page – downloads the entire page that the article is contained within

Issue – downloads the entire issue of that paper
.
There is also a great citation tool where you select the information button and it provides you with citation information in the format you require:
Article identifier

Page identifier

APA citation

Harvard/Australian citation

Wikipedia citation
.
The article I downloaded in the examples above was for my great-great-uncle Robert Hilton Matheson who was K.I.A. on 23 May 1918 in France during WWI.  These are Family Notices that contain tributes from various family members and friends that were sent to the newspaper.  Newspapers are a great source information for your genealogical research as items such as obituaries and family notices contain firsthand information from people who were there.  You can find out the names of aunts, uncles, cousins, family friends which can not only enrich your tree but provide a launching point for further research.
.
.
The beauty of Trove is you can access it from wherever you are.  My absolute favourite spot to Trove is sitting on my lounge, listening to music, drinking coffee, and trawling through millions upon millions of records.
.
.
.
.
Give Trove a try today.  You will be surprised at the information you will find about your ancestors.  Comment below to tell me what treasures you have found on Trove.