I have gotten a bit behind on the 52 Ancestors in 52 Weeks challenge and updating my blog.  We unfortunately lost dad on the 2 July 2018 and so there have been other more pressing matters to attend to.  I am hoping in the coming weeks to catch up on 52 Ancestors in 52 Weeks as well as exploring other topics.  The challenge for Week 27 (the week of 2 July) in 52 Ancestors in 52 Weeks is Independence.
Week 27 – Independence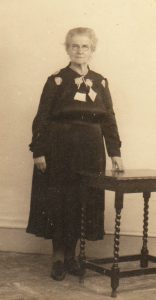 Thomas Richardson was born in 1842 in Silsoe, Bedfordshire, England to Samuel Richardson and Ann Jane Rands.1  He was baptised in Flitton with Silsoe on 9 March 1842.1  He was the eldest of five children, however, misfortune befell them when his father died in July 1852.2  Thomas was just 10-years-old and his mother was pregnant with his youngest sister, Elizabeth, born in early 1853.3
Prior to 1852, Ann's parents Robert and Elizabeth had moved to Canada, then onto Wisconsin and Ann made the decision to follow them.4  On 3 September 1857 Ann, and her youngest four children departed Liverpool bound for the United States leaving Thomas behind.5  The next record for Thomas shows him working as an apprentice lockmaker in Willenhall, Staffordshire, approximately 144km north of Silsoe.6,7   Thomas was 19 years old and would have been independent of his mother for four years by this time.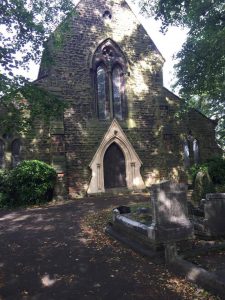 On the 24 November 1861 he married Susanna Appleby in St Stephen Anglican Church in Willenhall.8  He worked as a lockmaker for the rest of his life and the family remained in the Willenhall area.  Thomas and Susanna had 16 children, 13 of whom survived childhood, and my great-grandmother Fanny (see Image A) was their fourth child.9
My aunt told me that Thomas was a lay preacher at Holy Trinity (See Image B) where all the children were baptised. However, I have been unable to confirm this as the church has of record of him.  All the children were baptised at this church.  Thomas died in December 1914 and was buried on 7 December 1914 at Holy Trinity Church, Willenhall.10
I have always wondered what made Thomas stay in England when his family moved to the United States.  He was only 15 years and on his own.  I could understand if he had found an apprenticeship not far from where they lived. However, Willenhall seems a strange choice given they were from Silsoe.  I have a 14-year-old son. I can not imagine him having to forge his way in life without the support of his family.
Do you have an ancestor who was independent at a young age?  Click on the image below to search for them today.
---
Bibliography
1. Ancestry.com. England, Select Births and Christenings, 1538-1975 [database on-line]. Provo, UT, USA: Ancestry.com Operations, Inc., 2014, Baptism Index Thomas Richardson, 1842 FHL Film No. 1279109 Flitton With Silsoe, Bedfordshire.

2. Findmypast, Burial Index Samuel Richardson, http://search.findmypast.com.au/record?id=gbpr%2fd%2fnbi00271795, 1852 St James (Anglican), Silsoe, Bedfordshire, England.

3. Findmypast, Baptism Index Elizabeth Martha Richardson, https://familysearch.org/search/record/results?count=20&query=%2Bgivenname%3A%22Elizabeth%20Martha%22~%20%2Bsurname%3ARichardson~%20%2Bbirth_place%3ABedfordshire~%20%2Bbirth_year%3A1852-1854~%20%2Bdeath_place%3AWisconsin~.

4. Ancestry.com. 1851 Census of Canada East, Canada West, New Brunswick, and Nova Scotia [database on-line]. Provo, UT, USA: Ancestry.com Operations Inc, 2006, Year: 1851; Census Place: Morris and Hullett, Huron County, Canada West (Ontario); Schedule: A; Roll: C_11728; Page: 9; Line: 39, RANDS Robert, Elizabeth, Richard, James, John, William, Ann.

5. Ancestry.com. New York, Passenger Lists, 1820-1957 [database on-line]. Provo, UT, USA: Ancestry.com Operations, Inc., 2010., Passenger List 1857 Arrival: New York. Microfilm Serial: M237, 1820-1897; Microfilm Roll 178; Line: 45; List Number: 1054, RICHARDSON Ann, Charles, Susannah, Betsey, Elizabeth.

6. Findmypast, 1861 England Census, Class: RG 9; Piece: 2001; Folio: 118; P.12; GSU roll: 542901; Willenhall, Wolverhampton, Thomas Richardson.

7. Google Maps, Distance from Silsoe, Bedfordshire to Willenhall, Staffordshire, https://www.google.com/maps/dir/Silsoe,+Bedford,+UK/Willenhall,+UK/@52.2960887,-1.716111,9z/data=!3m1!4b1!4m14!4m13!1m5!1m1!1s0x48764addf71ad9ef:0x239562fa62cf88b7!2m2!1d-0.4250984!2d52.0098065!1m5!1m1!1s0x487098cc4dbf49d1:0xefaf2b8351503df0!2m2!1d-2.057635!2d52.585017!3e0.

8. Marriage Certificate of Thomas Richardson and Susanna Appleby, No.302/1861, Parish of St Stephen, Willenhall, Original in author's possession.

9. Findmypast, 1911 England Census, Class: RG14; Piece: 17092; Schedule Number: 39; Short Heath, Staffordshire, RICHARDSON Thomas, Susan, Ruth, Miles Ida May and George Kenneth.

10. FreeReg.org, Burial – Thomas Richardson, No.2963/1914.
Image Credits
a. Fanny Richardson, Original in author's possession.

b. Holy Trinity Church, Willenhall, Staffordshire, Image courtesy of Lindsay Lloyd.
SaveSave