The 52 Ancestors in 52 Weeks fourth challenge is "Invite to Dinner."  choosing who to write about for this one was easy.  For years I searched for my great-great grandmother Henney – this is her story.
Week 4 – Invite to Dinner
Many years ago I found my great-great-grandfather, Jonah Walker, in the Census.  In the 1901, 1881, 1871 censuses he was listed as a widower.  Who was his wife and what had happened to her?  I couldn't find a Census record for him anywhere in England in 1861.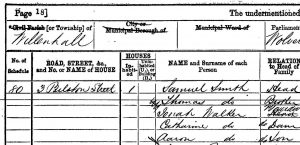 On the 1871 Census, Jonah was a widowed boarder living with his daughter Catharine (8 years) and Aaron, my great-grandfather (3 years).1  Searching the Census records was not helping me at all so I started to dig a bit deeper.  I had searched for a marriage record for Jonah Walker in the past but results only ever showed a Jonah Walker and a Henry Foster on record for marrying in Wolverhampton, Staffordshire in the March Quarter of 1857.2  I still had no possible female name to search for a census record.  I started to suspect that there was a transcription error and went searching for baptisms – after all I knew my great-grandfather Aaron Walker's father was Jonah.
.
Baptisms
I decided to track down Aaron's baptism record by searching using his father's name of Jonah.  I couldn't find a baptism record for Aaron but found records for:
George, born 26 February 1860 and baptised 5 July 1861 at St Stephen, Willenhall.3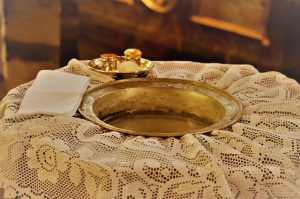 Catharine, born 15 May 1862 and baptised 26 February 1865 at St Stephen, Willenhall4
Anne Maria, baptised 26 February 1865  at St Stephen, Willenhall.5
So over a couple of record types, I now had a total of 4 children for Jonah.  However, this time I also had his wife's name – Henney.   What had happened to Henney, George, and Anne Maria, as none of them were on the 1871 Census?6  The mystery behind this family just seemed to grow more the further I dug.
I went searching for the 3 people I was missing – Henney, George, and Anne Maria – but with a surname as common as Walker, it was proving very difficult.  What happened to them and how was I ever going to find them?  I have only ever found a possible 1866 death record for Anne Maria.7.
.
Census Records
If I was correct, and my great-great-grandmother was Henney, as shown on the original Baptism records.  And if I was correct in assuming that she had been transcribed incorrectly on the marriage index as Henry, then I was looking for someone called Henney Foster.  So I went digging using this theory.
.
1861 – Jonah and Henney
With this new information, I decided to try to find the missing 1861 Census record.  I knew there was nothing showing for Jonah Walker so this time I tried using Henney Walker instead.  Bingo!  I found them, but this time Jonah's name was incorrect, and he had been transcribed as Josiah, hence why searches for Jonah had failed.8  All other information for him fit – birth year, birth location, and the occupation of Lock Maker.9
.
In this 1861 Census Jonah was living with his wife Henney and their children Sarah (3 years) and George (1 year).  Okay, yet another child, Sarah was added to the mix.  So now, when compared with the 1871 Census and baptism records, I was not only missing Henney, but Sarah, George, and Anne Maria as well.10  What had happened in the 10 years from 1861-1871 to this family?
.
1841 – The Forster's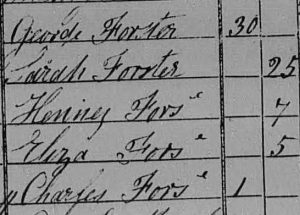 I decided to look for Henney Foster in Census records to see if this was any assistance in my search.  I found an 1841 Census that had George, his wife Sarah, and their children Henney (7 years), Eliza (5 years), and Charles (1 year) listed as Forster.11  Could this be another coding error?  I continued looking.
.
1851 – The Foster's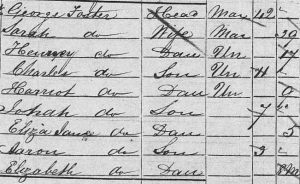 I found an 1851 Census that had a family called Foster – George, his wife Sarah, Henney (17 years), Charles (11 years), Harriet (9 years), Josiah (7 years), Eliza Jane (5 years), Aaron (3 years), and Elizabeth (8 months).12  I compared this with the 1841 Census and the ages, location of birth were the same for George, Sarah, Henney, and Charles – it was looking like an error in the spelling of the name Foster/Forster.
.
1861 – The Foster's

I then searched for the 1861 Census and found the Foster's again – George, wife Sarah, Charles (21 years), Aaron (12 years), Lizzie (10 years), and Louisa (8 years).13  I compared the 1841, 1851, and 1861 Census and names, ages, birth locations and again these were looking the same.  This time though, I noted the Foster's were living in Bow Street, Willenhall, the same street as Jonah and Henney – coincidence or something more.14,15
.
1871 – The Foster's

Continuing on this path, I searched for the 1871 Census but couldn't find George, however, found Sarah was now a widow.16  To confirm I had the correct Sarah Foster I again checked the ages of everyone contained on the Census and they matched – Charles (31 years), Aaron (22 years), and Elizabeth (20 years).17
.
However, this Census came with an even bigger surprise – there was a child called Harriet Walker (1 year) listed as Sarah's granddaughter.18  Was this yet another child of Jonah and Henney?  Was this the missing link to prove I had the right Foster family?  I again returned to the baptism records but could find nothing for a Harriet Walker.  Frustration was at a high.  I started to think before going any further down this road I needed to prove that I had the correct family for Henney.
.
The Certificate
Given everything, I had found I started to think I should risk ordering a marriage certificate for Jonah Walker.  After all, it was the only one coming up on a search for the period 1851-1871 in Staffordshire.  I used these two dates as he was single in the 1851 Census and widowed in the 1871 Census.19,20  To be on the safe side I did another search for all of England for Jonah Walker and there was only one other but none of the female names matched.  I bit the bullet, spent $17 and ordered the certificate on 23 March 2015.  I began to patiently wait, okay, not so patiently wait for it to arrive from England.
.
The day the certificate arrived I eagerly ripped open the envelope.  I finally had confirmation – the name of my great-great-grandmother was indeed Henney Foster.21  I had to really look closely at her name to decipher it as it did look like Henry – this explained my Marriage Index search results – she was transcribed as Henry.
.
Jonah Walker married Henney Foster on 29 March 1857 at Holy Trinity Church in Willenhall.22  His father was Simeon Walker, a Keyfitter, which fit all other records I had for Jonah and Simeon.23  Henney's father was Joseph Foster, a Carpenter and Joiner.24
.
.
Finally, I was making progress or was I?
.
Brick Wall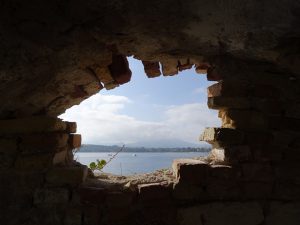 All the Census records I had found for Henney Foster had her father listed as George but her marriage certificate said, Joseph.25  I went and searched all the records again this time looking for Joseph Foster with a child whose name could possibly be Henney, and came up with nothing.  The only Henney Foster I could find had a father called George, who was a carpenter.  How could George and Joseph possibly be confused?  I checked the original documents again and again but his name was clearly Joseph on the marriage certificate and George on the baptism and census records.  I put it away in frustration.
.
Back to the Records
This family continued to intrigue me so I went back to them a year later.  I searched again and continued to come up with the same results – there were just no records of Henney Foster having a father called Joseph.  I decided to work from the angle that it was the correct family and somewhere, somehow the wrong first name was written.  I felt that Harriet Walker was where I was going to get my breakthrough so I set about looking to prove that Sarah Foster's granddaughter on the 1871 Census was Jonah and Henney's daughter.  After much searching I finally found a baptism record for her:
.
Harriet, baptised 27 February 1870, St Giles, Willenhall, the daughter of Jonah and Henney Walker.26  I hadn't found her in the original baptism search for their children as his name had again been transcribed as Josiah.
.
I also found a marriage certificate for her that listed her father as Jonah Walker, Locksmith.27  Harriet's baptism record narrows down the year of death for Henney to 1870-1871 which was a step forward.  I do believe that I have found the right family for Henney based on the above records, however, there is always doubt in the back of my mind because of the George/Joseph issue.
.
Inviting Jonah and Henney to dinner
You have probably figured out why I would invite Jonah and Henney to dinner – as you can see there are more questions than answers in their story.  If I could have time with them I would be asking them:
Is Henney's father's name George or Joseph?
How many children did you have?  Have I found all of your children?
What happened to Sarah, George, and Anne Maria?
When did Henney die?  Where is she buried?
Where is Jonah buried?
.
Every so often I return to Jonah and Henney in the hopes I will be able to answer the above questions.  If what I surmise happened my heart breaks for Jonah.  I think that between 1861-1871 his wife Henney, her father George, and their children Sarah, George, and Anne Maria died.  Jonah, faced with single fatherhood to Catharine (8 years), Aaron (3 years), and baby Harriet he chose to have Harriet live with his mother-in-law, Sarah.  At this point, I cannot prove or disprove these theories.
.
Such is my fascination with this story I have written two fictional stories based on Jonah and Henney's life – The Epiphany and The Census Collector – click on them to read.
Do you have a brick wall – tell me about it in the comments below.