This weeks challenge was Frightening and the suggestions were tell a family ghost story, Halloween story or photo, or if you felt scared in a cemetery.  I have really struggled this week to come up with a story, however, I will tell you a story that happened to my daughter.
Week 44 – Frightening
My daughter and I love going to cemeteries and walking around.  She enjoys taking photos of some of the graves with intricate designs.  My son is not so happy about this process.  In fact when we were in the UK last year,  because there are loads of old cemeteries, my son got to the point of "no more cemeteries or churches."  We would be driving along and see a cemetery and we would just stop to walk around.  He was over them!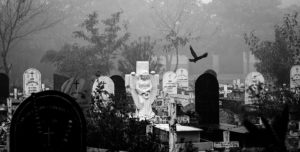 A couple of years ago we were wondering around Toowong Cemetery in Brisbane doing just that – looking and taking photographs.  At one point she walked off the road and went down the hill a bit and didn't return for about 20 minutes.  My son and I were looking at some graves a bit further along the road.
When she returned she was quite pale and looked unwell.  I asked if she was okay.   After a couple of minutes her colour came back and she seemed fine.  She told me that whilst she was down in this gully she went near to a grave and she started feeling very strange and sick.  She said it was quite spooky and decided to head back up to us.  She seemed quite shaken by it but after a few minutes was fine.  My son said this is why I don't like cemeteries!
Have you got a spooky story from your genealogy research?  Share it in the comments below.