Today I am going to compare two highly popular genealogy websites – Find My Past vs Ancestry.  These sites allow users to conduct genealogical searches and access historical records in relation to their ancestry.  They require people to join, and whilst you can build your family tree and search for free in order to access the full records, you require a paid subscription.  I have personally used both of these sites during my genealogy journey and find both to be very useful in discovering my ancestors.  There are pros and cons with both sites and I hope to address any questions you may have in regards to both these sites. 
Family Tree
Creating a tree on both platforms is very easy.  You can either start a tree from scratch by entering the information or by uploading a GEDCOM file.  GEDCOM is a universal code that allows genealogists to easily share their trees with others across different online trees or computer software.  Both websites allow users to share their trees with other people and you can control whether your tree is public or private to prevent it being shared by people you don't want having access to it.
Ancestry trees are searchable in their searches whereas the ones in Find My Past aren't.  You would need to be given the link to access a tree of someone else in Find My Past.  Ancestry also has the added bonus of being able to sync your tree with Family Tree Maker 2017.  This makes it very easy to have an offline tree to work on when you have no internet connection, which then syncs with your online tree when you are next online. You can save the records you find to your online trees BUT be warned if you cancel your Ancestry subscription you will lose access to all the documents on your tree.  I recommend always downloading and/or printing any documents you wish to keep and having a good paper and/or computer filing system to cope with these records.
Search Engine
The beauty of both these sites is that they have well-developed search engines that allow you to broaden or narrow down your search as much as you want.  You can search by name or by record sets held by that depository.  Whilst both sites have very similar content there are some records that Ancestry has that Find My Past doesn't and vice versa.  Ancestry focus tends to be towards the United States whilst Find My Past has a more of a UK and Australian focus.  Having said that both do carry records for other countries and it's definitely worth a look to see if they have the records you require.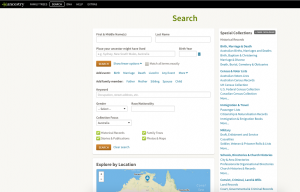 Pricing
Both platforms have a free level of access for members but whilst you can search unless you have a paid subscription you won't be able to look at the actual documents.  They both offer varying subscription levels depending on what you are looking for and what you can afford.  The following prices are in Australian dollar (AUD).
You have the option in Find My Past to pay-as-you-go, join for a month and pay monthly, or an annual subscription.  I have used all three options at different times of my genealogy journey.
Pay-as-you-go Credits – valid for 90 days

60 credits  – $13.50

300 credits – $48.50

900 credits – $106.50
Australia/NZ Membership – $9.95 per month or $114.50 per year  

Included Australian and New Zealand Records

Electoral rolls

Birth, marriage, and death records – this is not complete but is growing weekly

Convict records

Key Military records including Boer War, WWI, WWII, and the NZ Wars

Passenger lists departing the UK and Ireland

Wills and Probate records for Australia

Immigration and Naturalisation records
World Membership – $19.95 per month or $239.50 per year

All Australian and New Zealand records listed above

British Records

British Census, birth, marriage, and death records

Parish records dating back to 1500's

Passenger lists departing UK and Ireland for Australia, NZ, USA, Canada

Key Military records from early 1600's onwards

Online local British newspaper collection

1939 Register (not included in monthly subscription)

 

 




Ireland Records

Census, birth, marriage, and death records  

Online directories collection

Land records

Prison records from the 18th Century

Court records and Petty Sessions Order Books from 1842-1913

US & Canada Records

Key military records: the American Civil War, Boer War, WWII, WWI & other conflicts

Full U.S. federal census from 1790 to 1940

Birth, marriage, and death records from every US state – growing weekly

Immigration and naturalisation records

American newspaper collections
You have the option in Ancestry to pay-as-you-go, pay monthly, or a six-monthly subscription.  I have used all three options at different times of my genealogy journey.
Pay-as-you-go – Valid for 14 days

10 record views for $10.95
UK Heritage – $21.99 per month or $99.99 per six months

Key Australian records

UK Census, birth, marriage, and death records

Tree builder

UK Heritage – $21.99 per month or $99.99 per six months  

Key Australian records

UK Census, birth, marriage, and death records

Tree builder
UK Heritage Plus – $29.99 per month or $139.99 per six months

All Australian and UK records that they hold

UK Parish records 1538-1980

UK Military records

All their NZ and Ireland records
World Heritage – $59.99 per month (introductory price is $49.99) or $169.99 per six months (introductory price is $169.99)

All our Australian & UK records

Worldwide emigration records

Records from USA, Canada, NZ & more

Plus all their other records
Document Holdings
Both sites, whilst holding similar content, hold some content that the other doesn't.  This list is by no means comprehensive and if you want to see who holds the records you require you would be best going directly to their list of records held.  Find My Past has "A-Z of Records Sets" and Ancestry has "Card Catalog" to list the records they hold.  The following key differences are:
1939 Register – this is a register of all the residents of England and Wales at the outbreak of WWII. This is especially important for family historians as the 1931 Census was destroyed during WWII and the 1941 Census wasn't conducted due to the war.

British Newspaper collection

England and Wales Parish Records – their collection is more comprehensive than Ancestry's
Ancestry
Searchable family trees

Searchable photos and stories submitted by users

DNA profiles – separate payment required
Verdict on Findmypast Vs Ancestry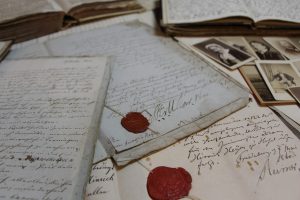 I think it comes down to personal choice and what records you require.   I like that Ancestry allows you to search user trees, photos, and stories and you can message other members.  I like that on Findmypast, once you've accessed a record you are able to access that record even if you are no longer a paid member.  Both sites allow you to build a tree and save records to that tree but you need to be wary of Ancestry as you will no longer have access to the documents saved to the tree when you stop your subscription.   I like both sites and both of them have their place in genealogy research.  Find My Past is quite a bit cheaper than Ancestry but as I stated they both hold slightly different record sets.
Over the years I have used both sites regularly.  I usually only have a paid subscription to one at a time as it can be quite expensive to keep two going all the time.  If I require a particular record from the other site in that time I'll use a pay-as-you-go to get that record or go to my state library to use their copy.  The decision as to which site works best for you is yours.  Both sites offer a trial period for you to investigate their collection of records.  Why not take advantage of their free trials to explore the holdings of these two sites and decide which is best suited to your research needs?
As this site grows I will post more helpful information so please be sure to return to look at my blog.
Click on the image below to start your genealogy journey today.